30 seconds to get started quickly #
– Can't find my newly created record? #
Reason 1. Not in the current week
Elisi displays things by week, when you find your created to-do, diary, habit is not displayed, try to go back to today at the top right corner
Reason 2. Clicked on the target filter at the bottom
The goal filter will show only the items associated with the currently selected goal
Reason 3. In other workspaces
Open the left sidebar and see if you are currently in another workspace.
– Goal Management #
Set a goal, then schedule everything associated with it to record, give feedback at any time, and see how far you've come.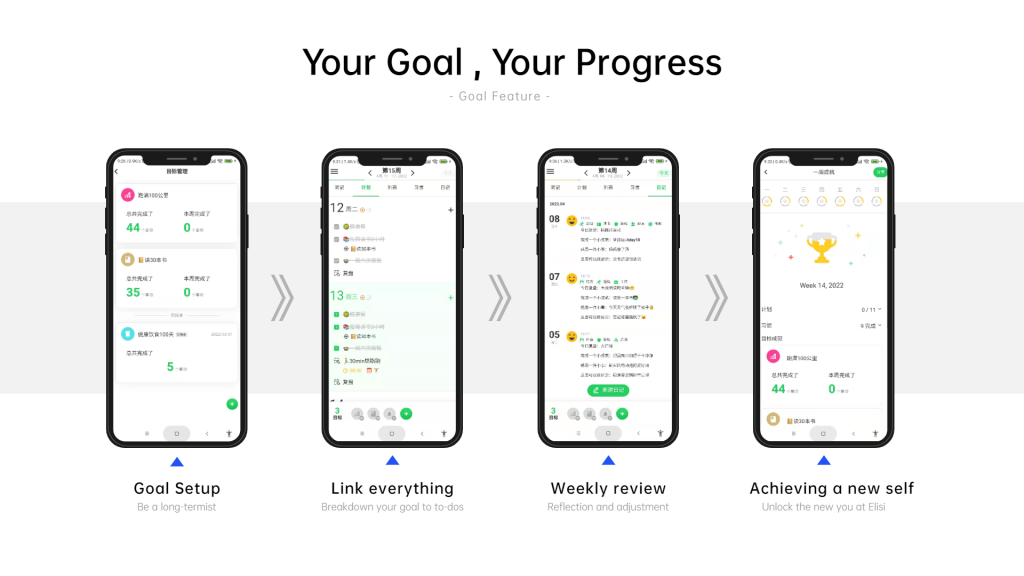 – What's a workspace? #
Helps you focus on one area.
e.g. I created a workspace for reading and used only the notes module to separate reading notes from other tasks.
– Any restrictions on paired devices? #
All devices are supported, there is no limit to the number of devices.
– Think the colors are boring? #
You can switch more colors in Account-Themes. 7 colors are available, and you can choose whether to follow the system's dark color mode in Settings.
– Calendar import #
Support Google, microsoft, apple calendar import, refer to the guide on each website for the specific steps.
Outlook Calendar Export
Guide for apple series.
Calendar export for iPhone
Calendar export for Mac
Due to the complexity of multi-system adaptation, Elisi does not support syncing plans to system calendars at the moment.
– What's the difference between Lists and Plan? #
List is a relatively free Todo list, you can set task without completion time, and you can use "Add to list" to sort and manage tasks according to their types. Plan is a task board, and only tasks with confirmed completion time will be shown in the Plan.
– Too many modules ? #
Turn off unneeded functional modules in Account-Settings.
– About Premium #
What can Premium unlock?
Common features are note levels, habits, workspaces and goals. If you need more than 5 habits, more than 3 workspaces, more than 1 level of notes, more than 3 goals: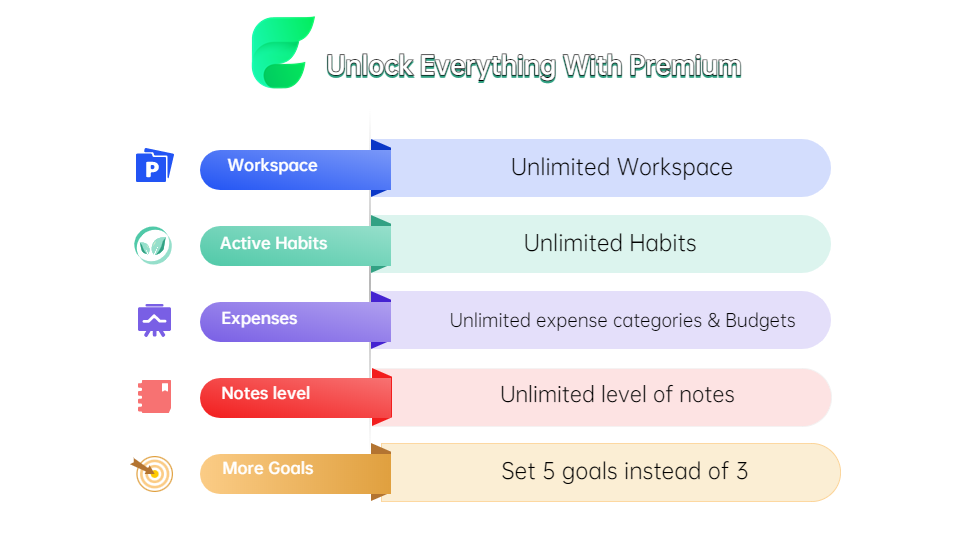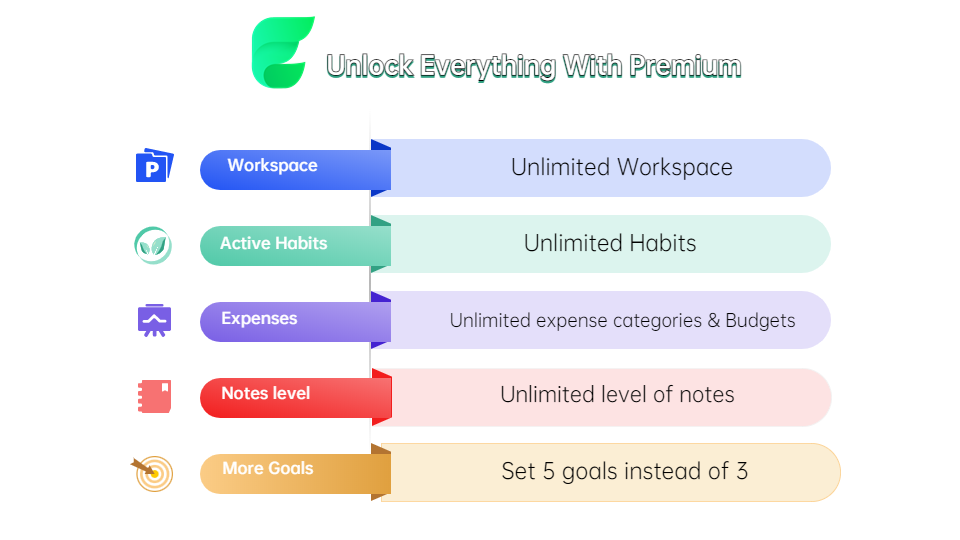 The current difference between Elisi Premium and free users is shown in the picture. Premium members can unlock the limit of the number of tiers of each feature. When the Premium membership expires, the records can all be kept, just that you cannot create new ones again.
If you are a new user, you can also get a one-month membership trial by clicking here to join discord
-Can I export the data? #
Yes, to get in the current export process , contact Elisi assistant on whatsapp
Please note that your data will not be processed by us which means it will keep the original format and may be hard to read.