Elisi's goal system originated from our design concept, from Bullet Notes' all-in-one advancement to life management. Currently, the goal system is a simple initial version, but a lot of user feedback has been really helpful. We will release a more effective goal system in this year.
About the target
The importance of setting a good goal for persistence is self-evident. Think back to your past persistion failures. Is it all because you can't convince yourself to commit to it? If you find your deep inner motivation, persistence and self-drive will come naturally.
Your goal setting can be as simple as starting with a blank sheet of paper and starting in three days. For details, see How to Find Your Goal.
Specific steps
Create your goal through two ways:
On the left menu bar, find Goal Settings, click +
Find goal on the bottom filter bar, click +
Free users can track three goals at a time, advanced users can track five goals at a time, the reason why you can't set an infinite number of goals, is because with more than five goals, you will be like picking up one and losing another.
Here are three simple tips for creating goals. For more details, see Rapid Planning Method.
Comply with the SMART principle
Identify key outcomes and set expectations
Effective review process, such as PDCA
Goals are associated with everythingin Elisi
In editing any task/note/habit/expense/diary, you can make it relevant to the goal.
(Periodic tasks are a series of tasks and currently cannot associate goals. This issue will be fixed in the next version.)
Goal Statistics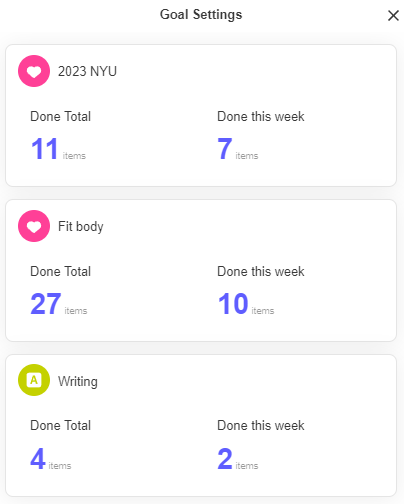 In addition to seeing the goal in every feature, you can also see the overall and weekly statistics in Goal Settings. Go to the Goal Details page and you can see the specific achievements, divided into completed and unfinished, and you can see the expenditure statistics under this goal.
My method of using goal is to focus on the review of today, think about whether the completed things are related to the goals, pay attention to my progress and adjust the plan for the next week.
We are on Whatsapp now! Contact us to get instant help or join our group chat to share your goals!Or Join us on Discord and get 1 month Elisi premium!