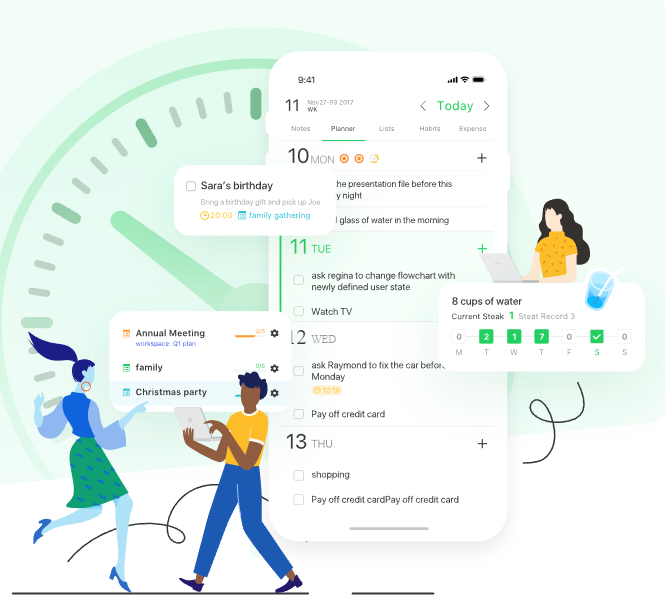 What is Elisi? #
Your all-in-one life assistant #
Elisi is your one-stop assistant for life management, with 7 features to help you achieve your goals while sync across all platforms.
Since Elisi launched on appstore in 2016, our small team has made 100,000+ friends from all over the world.
Elisi's design is based on Self Determination Theory and goal management approach to unlock an easy yet productive lifestyle for you.
The minimal user interface and the original goal system allow you to start a clear and definite new life.
Different from any app #
Elisi's original goal system and six functional modules will open a clear and definite new life for you.
All platform device synchronization #
IOS | Android | Web | Desktop | WAP help you move forward lightly.
You are in control of your growth #
In Elisi, you have a global view of everything in your life:
Goals | Plan | List | Habit | Notes | Income & Expenses | Mood Diary
The above features are combined with workspace and various customizations to create your own workflow and life aesthetics.
What Elisi can do #
For all platforms #
Elisi supports IOS/Android/PC/Web and all information can be seamlessly synced to the same account.
You can track on iPhone/iPad/Android/Tablet/PC/Web, all devices without limit.
Elisi also works without internet connection and automatically syncs data when connected.
With Elisi, you can plan, track and complete from any device, anytime, anywhere.
The goal is ahead and Elisi is your starting point, so get going now!
Seven functional modules #
1. Original Goal System #
The beginning of becoming a long-termist: set a goal for yourself
● Goals are the prerequisite for all changes to happen. Group everything related to the same goal, whether it's a habit, a list, a task or a note
● The goal model turns Elisi into a tool that can help you accomplish any long-term pursuit
● Goal navigation at the bottom allows you to quickly filter and focus on one goal
2. Intuitive weekly planning #
With so many apps for making plans, we focus on taking the load off your brain.
● Clear weekly view of current tasks, which can be associated with lists, workspaces, and goals
● Todos, notes, events and habits can be displayed in the plan to clear your brain's load
● Easily drag and drop tasks from one day to another to switch between past and future schedules
● You can switch to monthly view in the sidebar at any time
● When the weekend is approaching, you can move this week's advent tasks to tomorrow with one click
3. Effective Habit Formation #
Developing habits is the beginning of a self-disciplined life. Let a good life start automatically and reduce your willpower loss.
● Elisi's habit tracker allows you to track and view habits in the most intuitive interface
● Track the water you drink, the meditation you complete, the books you read, etc. with easy-to-understand operation
● Support customize the number of daily punching and punching days, specify the punching date and display it in the to-do list on the schedule page
4. Customized to-do list #
● Tag tasks by adding them to the list
● Seven optional colors to make your to-do list not only beautiful but also well organized
● Group related to-do tasks in one list for a refreshingly organized life
● Support periodic tasks and subtasks
● Group tasks without time attributes in a list to reduce the load on your brain
5. Flash Notes #
● With 5 template provided , quickly jot down anything you want to remember, and review them anytime
● Notes support structure view, so you can add structured associations, or connect notes to goals to show more information
● On large screen, note will show the content directly without clicking into it
6. Mood Diary #
Reviewing is the premise of adjusting the plan, and unable to sticking to it is often because of not adjusting it in time
● Support 30 seconds quick mood diary, a few clicks to finish the day's record
● You can also finish your daily review in Elisi notes to record your daily achievements and reflections
7.Income & Expenses #
● Support category statistics and can be associated to goals
● Support to add budgets by different categories

More hidden eggs #
Dark mode, six theme colors, achievement system, helping blog ……
There are more surprises in Elisi waiting for you to discover!

Contact us #
You can contact us at any time through Discord & Whatsapp, we look forward to see your new life!
For those who don't use discord,find us on Whatsapp:
Facebook: @Elisiapp
Twitter: @Elisiapp
New users who have installed Elisi, join Discord to get one month premium.
Fill out the questionnaire to get an additional month of premium.